Breaks Baumgartner's skydiving record with Raspberry Pi & new Radiometrix NTX2B Transmitter
A bear named Babbage has beaten Felix Baumgartner's longstanding skydiving world record, using a weather balloon and a Raspberry Pi computer to climb to an estimated height of 39km before jumping back to Earth.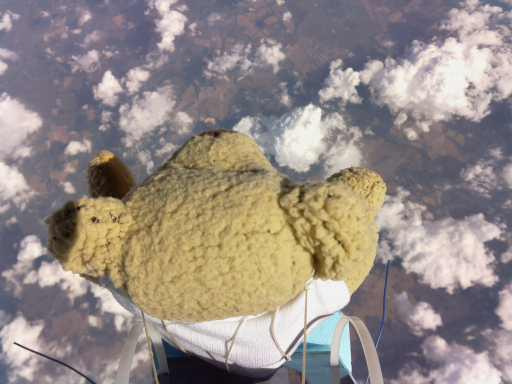 The jump was facilitated by David Akerman, a high-altitude balloonist and Pi-enthusiast who kitted out the bear with the low-cost computer acting as a flight control centre and the new NTX2B radio transmitter from Radiometrix sending back the pictures and position of the bear in flight.
The Pi transmitted the bear's position back to Akerman whilst shooting pictures and video from a camera fitted into it's eye socket. The radio transmitted at 600 baud to ground stations as far away as the Netherlands who fed the packets to a central collector on the web where the stills were reconstituted and packets matched to make the stunning photographs. The feat was also live-streamed from both the launch site and a designated chase car set to hunt down the bear.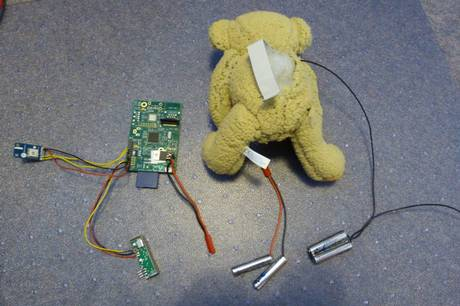 Babbage was hooked into a 'launch capsule' kitted out, like Baumgartner's, with an over-the-shoulder camera and then attached to a Hydrogen-filled weather balloon and launched from a site near Mr Akerman's home in Berkshire.
The take-off took place at 12:25 on Monday 26th with Babbage landing back on Earth at around 16:00. He was found an hour and a half later, having drifted several miles from the launch site. The radios on board had transmitted his last position and then Mr Akerman used the radio signal to find the bear.
More info on NTX2B
Single frequency Transmitter
High stability TCXO reference
Supply 2.9V - 15V @ 18mA (internal 3.0V LDO voltage regulator)
Data bit rate: 10kbps max.
Transmit power: +10dBm (10mW)
Dimensions 43 x 15 x 5mm (fully screened)
Programmable ( at factory ) 425 - 480MHz
High Power version 100mW available December in the same footprint
VIDEOS
LINKS