The Edge of Space…
The Radiometrix NTX2 Transmitter was recently used in the BBC's brand new science television show 'Bang Goes The Theory', which looks at how science shapes the world around us.
On Episode 4 of the series (first aired on 17th August 2009 on BBC1), viewers saw Jem Stansfield, one of the show's presenters and Electronics expert Steve Randall, send a helium balloon to the edge of the space, with a budget of just £500.
In a tribute to US Air Force Pilot Joe Kittinger's 1960 skydive from the 'edge of space', Jem attempts to replicate the mission with his 'Dallas' action figurine. Almost 50 years ago Kittinger jumped from a helium balloon at 102,800ft (31,333m) and lived to tell the tale, having set the record for the highest ever parachute jump which still stands today.
The segment in Episode 4 covers the building, testing and video capture by flight. The aim of the project was to make a flight computer and radio tracker (GPS & transmitter) to be used to film from a small payload on a high altitude balloon and then to subsequently recover the payloads. Steve Randall of Random Solutions provided the electronics for the project.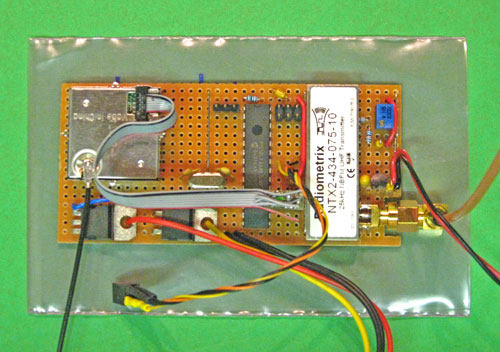 Image above shows the first Flight Controller: OEM GPS on the left - Radiometrix module on the right - PIC processor in the middle - power FETs bottom left (which were used to drive the doll and balloon cutdowns)
The NTX2 Radiometrix transmitters on 434.075MHz and 434.650MHz were used in the Dallas doll/figurine and the camera rig/main payload. Two OEM GPS devices were used to record latitude, longitude and the altitude of each payload and the NTX2 transmitters were used to send the data back to Steve. The receive stations were Ham Radio receivers and PCs to decode the downlink data. he data was then imported into Google Maps to help them recover the payload.
After a successful flight, followed by two hours of searching across Cambridgeshire, the team tracked and recovered the Dallas doll in a garden, using the signal strength of the transmitter, as GPS coordinates were no longer accurate.
For the BBC's annual Children In Need charity appeal, Pudsey bear was sent into space by Steve once again using the NTX2 transmitters.
Watch clips from the Episode on:
For more information on the show, please visit: http://www.bbc.co.uk/bang/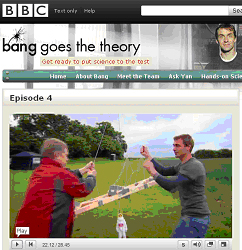 Read the 'Behind-the-scenes' feature on the episode in the BBC's Focus Magazine, Issue 206: http://www.bbcfocusmagazine.com/issue/solar-storm
Open University Blog on the show: http://www.open2.net/blogs/scitechnature/index.php/2009/08/14/wheredoesouterspacebegin?blog=7